We had the Baby Shower yesterday.
First and foremost, a huge thank you and hug to the ladies who went above and beyond to put together a co-ed Shower that was entertaining and enjoyed by a very diverse and eclectic group of people: PEBBLES, OZ, MDAWGS, and TINKER, you ladies knocked it out of the park. K-Bomb and I will be eternally grateful.
A few shout outs:
– My In-laws have gone above and beyond helping us get ready. With so little time to get ready, they have been invaluable.
– To all the crazy fools that tasted the dirty diapers to see what kind of candy it was. You nasty.
– To the guys who drank baby bottles full of apple juice through a nipple with what was apparently a very small hole. I thought a few of you were gonna pass out from the effort. I was highly entertained.
– Sherbear and Hotrod for making the long ride up. Thank you so much.
– I was given a tool belt to help me with diaper changes. I was a carpenter for many years and have had several tool belts, but this one might be my favorite. I'm keeping it. Pics to come!
– Everything was amazing from the food to the cupcakes to the location. We had a great time celebrating with everyone.
Now that it's been revealed, I can tell you Six's legal name will be Logan Daniel. We really liked Logan and Daniel is after K-Bomb's Dad, a good man who deserves the honor. (We just gotta get him on a motorcycle again.)
Sarge created this set of pictures based off an idea from Pebbles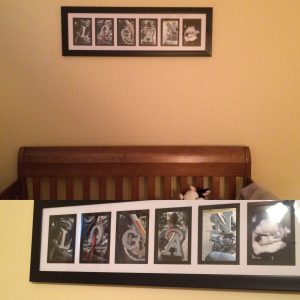 It's humbling for a guy who comes from such a small family to see so many come together for little Six. My family did get-togethers when I was younger, but they were never more than 10 people. This little boy is going to be loved by so many people he'll never know what it is to have a small shindig. Or what it's like to have a birthday party without motorcycles.
We often tell people our friends are family. And I don't mean just bikers, although the vast majority of our friends are bikers. Everyone thinks they get it, but they don't know what they don't know. It's not really something that can really be explained, it has to be witnessed. After my In-laws made it home last night, my MiL made a post on the Facebook Event page for the shower. Part of her comments included this:
"Your friends touched my heart as Dad and I see exactly what you're talking about when you call your friends family. You two are very blessed (along with Logan) to be loved by so many people."
Yes, we are. We love you all.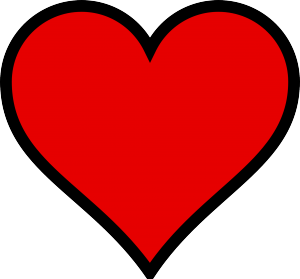 COMING SOON: Tech learns all about breast pumps!