UPDATE: I upgraded to a 2014 Harley Davidson Ultra Glide Classic the day after I got home from Sturgis 75. My 97 just didn't have the power I wanted when pulling the wife and I and the loaded down trailer as compared to the folks we were with that had the 103ci motors. The lack of air cooling was a bit irksome, but I wasn't going to let it bother me. Somewhere in the mountains of South Dakota the gas gauge decided to quit working as well. I turned my head and told my wife. A few minutes later she leaned forward and said "Maybe you should trade this in when we get home."
I didn't need to be told twice. I bought it with 11K on it. Afterwards I did upgrade to 11″ ape hangers. And just this morning (1-6-15) I ordered a new trailer hitch and wiring kit so we'll be ready to camp later on this year.
The old bike:
I used to ride an 07 Harley Davidson Electra Glide Classic. Mileage when traded was in the high 50Ks.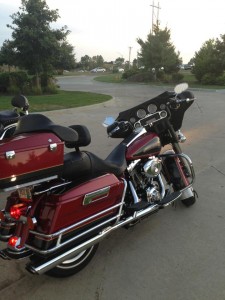 Recent Posts

Archives

Meta